Our Team
Peter MacInnis
Owner/Orchard Caretaker
Margaret MacInnis
Wine Maker
Anne Greeno
General Manager
Collin MacInnis
Foreman, Technical Expert
Our company
Our family owned and operated winery in Saskatchewan crafts wine from our own Haskap orchard, with future expansion into cherry, rhubarb and black currant wines, as well as melomels and mead. Liqueur, dessert wine and fruit table wines will round out the offerings. Sparkling wine will be added as the production capacity expands. Given the nature of the fruit, it is hoped that part of the Haskap wine will be further aged in oak barrel, as Haskap has a complex structure with phenolics and tannins that lend it to further development beyond a simple fruit wine.
Peter and Margaret MacInnis
Peter brings his extensive military experience to the business after serving in the Royal Canadian Navy on both the east and west coasts of Canada. He is currently an Electrician and Maintenance Planner with a uranium mine in Saskatchewan, and has previously worked in the oil industry in Alberta. Margaret was a registered nurse, providing first level care services in both Nova Scotia and British Columbia.
Margaret is currently enrolled in the UC Davis Winemaking Program with a completion date of March, 2019. This certification will enable the Bee & Thistle Winery Inc. to offer the expertise of a full-time certified winemaker. Peter is a trained distiller; his skills will be utilized to produce various base alcohol which will then be developed to Haskap gin, other fruit liqueurs and the like.
Peter and Margaret are co-owners of a haskap orchard which supplies Bee & Thistle Winery Inc. with all of the berries needed for their Haskap wine production. With initial planting in 2013, the orchard thrives and continues to produce a bountiful crop each year. Their orchards are being expanded to include other fruits, such as rhubarb and black currants to diversify the wine offerings in the future.
Collin MacInnis
Collin also brings with him his extensive military experience with his service in the Royal Canadian Air Force in both Canada and Germany. He is currently a Power Engineer with a major oil and gas company in northern Alberta, and his expertise with maintenance of equipment and his ability to think outside the box, will be valuable assets to the winery. Collin is developing his own acreage nearby, into Ravensfield Farm, which will specialize in Carmine Jewel cherries and include other fruits in the coming years.
Anne (MacInnis) Greeno
Anne has 35 years in business and project management after working with two major Canadian organizations that provide services to banking, financial and IT industries. She has extensive experience in team leadership, resource management and marketing. Anne is the tireless contributor of new ideas, calling on her expert interpersonal skills to help develop the website, marketing materials, and branding.
The Bee & Thistle Story: What's in a Name?
At the time of Alexander II, King of Scotland early in the 13th century, the Morvern area was under siege from the Vikings. The Chief of Kinlochaline was sent to a location where the enemy was expected to land. They had a long wait and MacInnes touched a nest of bees and was stung. He leaped up just in time to see the enemy landing. Calling his men to battle, they took the enemy by surprise. The Vikings were defeated by the waiting MacDonald's men who made a clean sweep of them. When the fight was over, MacDonald addressed thus: "My blessing on you, Chieftain of Kinlochaline. Whilst MacDonald is in power, MacInnes shall be in favour." The Chief of Kinlochaline's answer was: "Friendship will ever be ours, whilst the bee on the thistle is with me and with every member of the Clan MacInnes who carries the favour in his bonnet."
The MacInnis Crest - Two Actually
This first crest and motto was adopted in the 13th century during the Viking raid on Morvern described above. The traditional emblem of the clan is the bee on a thistle flower, with the Gaelic motto:'E Labore Dulcedo' - "In labour, we find pleasure".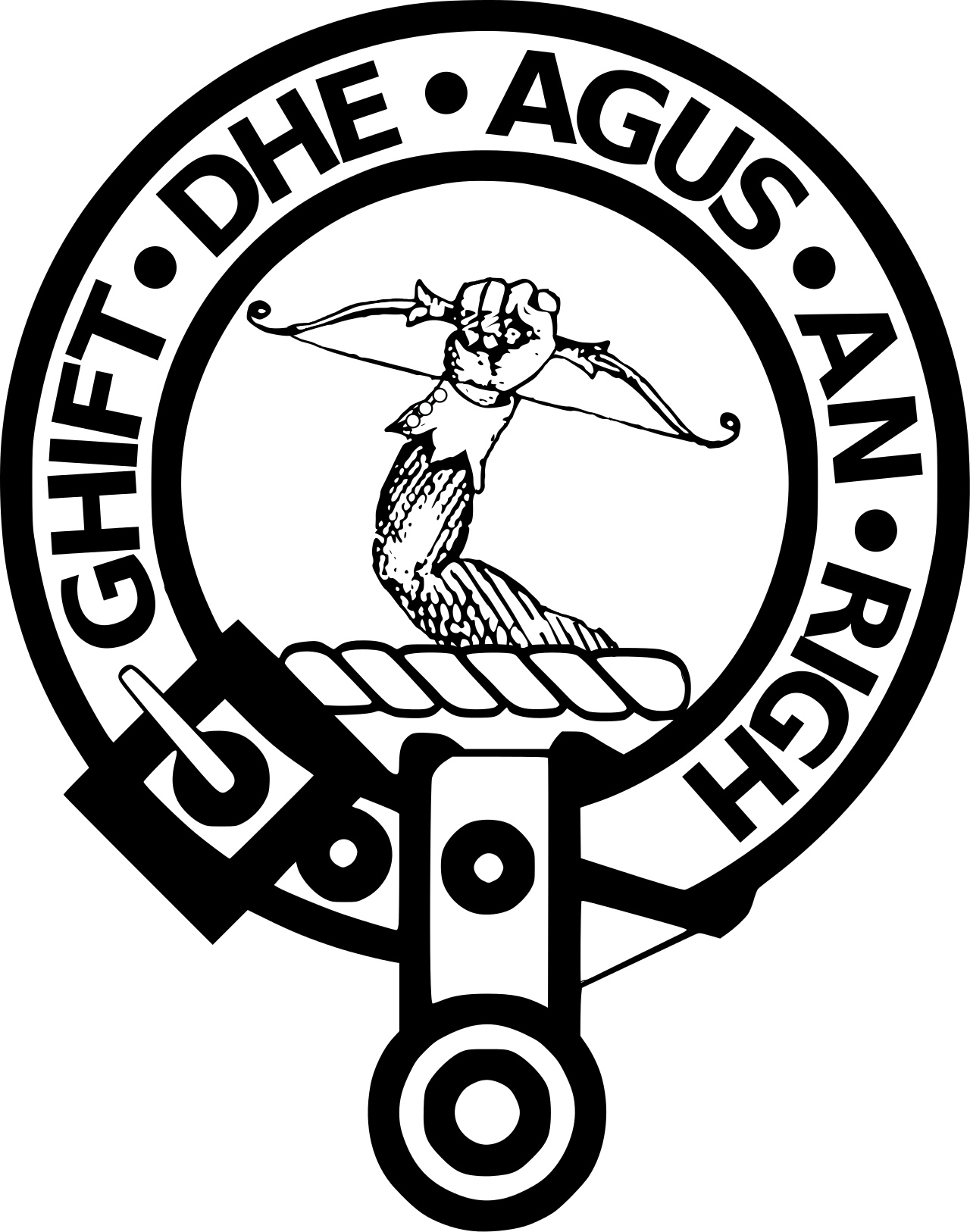 The second crest and motto was adopted in 1960. It shows the right arm in proper tartan holding a bow, with the motto: GHIFT DHE AGUS AN RIGH, ["By the grace of God and king"]. This crest pertains to MacInneses of Skye - being that of the extended arm of an archer that relates "Sliochd Neill a' bhogha", (The Line of Neil of the Bow).
Our father, Ronald J. MacInnis, is the inspiration behind the Bee & Thistle Winery. With ancestors hailing from Scotland, Ron was a proud Scotsman and enjoyed continued learning of the Gaelic language and his Scottish heritage. Bee & Thistle Winery and Orchards, as well as Ravensfield Farm, are dedicated to his memory.